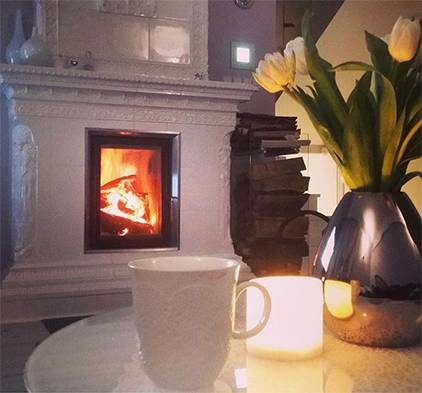 For whom is our stove?
Tiled wood-fired stoves are among the cheapest energy sources for living quarters. Taking into account space preparation, purchase costs, fuel storeroom and (most of all) the costs of fuel, the storage heating stove is becoming an alternative that offers attractive price and ease of maintenance. Of course, it is necessary to secure an appropriate quality of fuel and ensure correct operation. The produced energy is recommended for people, who suffer from an allergy to dust and unfavourable conditions, which may arise from convection heating.
The view on real fire and the warmth of the stove put us in a cheerful mood, especially during winter nights.
However, everything has its pros and cons. The costs of fuel usually depend on the amount of energy, which was required to produce a given batch of the fuel. That is why chopped and cut firewood costs more than unprocessed wood, because it used the energy for transporting and cutting.
When we supplement it with the costs of storing, we get its final price.
A growing tree is a living storehouse of solar energy and water. Once it has been cut, it requires a storage facility, where it would release the water.
The advantage of the firewood is that it can be stored in the open air. Low prices of wood or rather low costs of producing 1kWh of energy arise from the fact that users themselves supply the firewood with additional energy through cutting and fragmenting. On one hand, it is beneficial for our health, but on the other, it requires a lot of sacrifice.
Another advantage of this type of heating is the time of costs depreciation and easy operation of the wood-fired stove. 50 years is the average period, during which there shouldn't be any problems - the technicians will not earn anything from us! Another advantage is the environmental construction, but this fact is often excluded by other producers. We paid attention to the problem and we want to make people in Poland aware of the need to burn fuels in a more ecological way.
The last advantage is the complete lack of dependence on any other energy source, particularly the electric energy. There are always some doubts, but a tiled stove installed in a house and firewood for winter would protect as from cold.
But let's get back to the initial question - for whom is the stove?
It is for those, who agree with the above conditions. Bringing some more firewood day by day, lighting up and fuelling for 3 hours. However, we want to deny the rumours that stoves should be cleaned on a daily basis. Ash constitutes 1% of firewood and there is much more in bark. Thus, we see ash in furnaces, and the more imperfect the combustion is, the more ash we would see. It is believed that the ash should be removed once a month, but a user should remember to leave some ash, which keeps up the temperature in furnace.
For whom is the stove?
For those, who search for something more than a dry air inside the rooms. For those, who know how much they can save by heating with a storage stove. For those, who like to work and prepare firewood in exchange for healthy, pleasant heat, atmosphere and firelight.
Please remember about the above conditions that accompany your decisions. Let the purchase of a stove or manner of heating be satisfactory for years.